Happiness & Fulfillment… from the Most Unlikely Source
How about a video to lighten up the mood? This is after all, an article about happiness and fulfillment.
It's a humorous and entertaining presentation by a vivacious college professor about achieving childhood dreams.
If you watched the video right to the end, give yourself a pat on the back. If you didn't, you really should. It's definitely worth your time.
For those who are too busy, here is a summary of the presentation: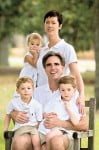 Randy Pausch was a husband, a father of three beautiful young children, and a computer science professor at Carnegie Mellon in Pittsburgh.
When he was asked to give a lecture titled "The Last Lecture" in a traditional series, it wasn't a mere abstraction for him. The 47-year-old knew that he had only a few months to live. He was dying of metastatic pancreatic cancer.
He pondered, debated, cogitated, and agonized over what he should, would, could, and must say. It wasn't an easy task to condense a lifetime of experiences into an hour long presentation.
In the end, the lecture he eventually gave wasn't about dying as most expected. It was instead about "Really Achieving Your Childhood Dreams". It was about the importance of overcoming obstacles, of enabling the dreams of others, of seizing every moment (because "time is all you have…and you may find one day that you have less than you think"). It was about living a fulfilling life in spite of the challenges.
Randy past on on July 25, 2008. He is survived by his wife, Jai, and their three children, Dylan, Logan, and Chloe.